Please ask for current prices and delivery periods.
Lugage box 58 l
Lugage box open top
Art. No. 352.031
Lugage box with snap lid
Art. No. 352.034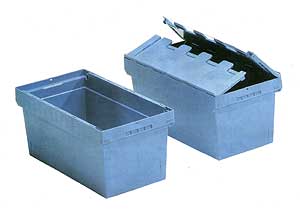 Our industrial box has a capacity of 58 l and a open top or a snap lid on top. It is made out of tuff plastic and has a little conical shape with size of 505 x 335 mm at the bottom and 600 x 400 mm on top. The snap lid protects the carried goods against dirt and splashing water. The box fits to our XL baskets and to the Ballance rear platform.