The Loadmaster
Please ask for current prices and delivery periods.
Airport XL plus RT1, 1-speed, heavy duty front basket
Art. Nr. 129.070
Airport XL plus2 RT1, 1-speed, 2 heavy duty baskets
Art. Nr. 129.080
speed hubs
Sram 3-speed with coaster brake
Art. Nr. 000.101
Sram 5-speed cargo hub with coaster brake
Art. Nr. 000.103
Sram 7-speed with coaster brake
Art. Nr. 000.104
Airport with city basket with city basket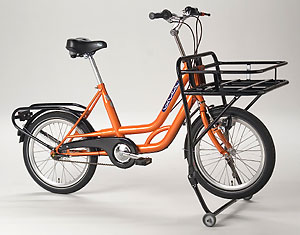 Airport XL plus with industrial front basket with integrated wheel stand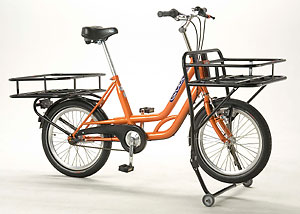 Airport XL plus2 with heavy load basket front and rear and front basket steel tubes with wheels
Airport XL is our most manoeuvrable loadbike with low level carriers. The low gravity centre and the 20"x2,00 fat tires are perfect to carry heavy loads even around sharp corners. The frame is made out of Hi-Ten-steel with a 43cm long seat tube in combination with a 500mm long seat post allows every user to adjust comfortable riding position. Seatpost is shifted throughout quick release within seconds. Main tube is about 42cm low and allows to step on and off easily. As well the rear part of the frame is longer and stronger as the standard Airport, its therefore possible to mount our extended industrial baskets to the rear as well. Equipped soft seat and wide handlebar make the bike very comfortable.
Additional quality attributes are:
rear rack out of steel tube, alloy stem with stainless shaft, chain cover and mudguards out of resistant plastic and lightning with dynamo and reflectors to all sides in confirmation to law. For less load weight we offer Airport in a short version with a smaller front baskets.
Frame colour: Airport XL dark blue.
Other colours and additional equipment you find under Extras & Accessories.