the Economical
Please ask for current prices and delivery periods.
Kurier RT1, 1-speed, city basket
Art. Nr. 124.000
speed hubs
Sram 3-speed with coaster brake
Art. Nr. 000.101
Sram 5-speed cargo hub with coaster brake
Art. Nr. 000.103
Sram 7-speed with coaster brake
Art. Nr. 000.104
Kurier plus or plus2 with heavy load baskets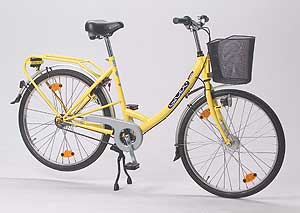 Kurier with front basket - Extras: yellow colour, extra rear stay
Kurier frame (50cm high) is made out of Hi-Ten-steel and designed to carry heavy loads up to 175kg in total. It is easy to use and robust in any case. Because of its low main tube it is easy to step in even fully loaded at front and rear. To increase frame strength an extra rear stay is brazed to rear dropouts.
Other details are:
26" or 28" wheels with alloy rims and 2,34mm stainless spokes at rear, bottom bracket cartridge, anti slip pedals, front V-brake, lightning with dynamo and reflectors, comfortable saddle with suspension and comfortable handle bar, steering stabilizer, strong double kickstand. In the standard configuration the Kurier comes with front basket (ca. 300x 230x 260mm) mounted to the frame for a load capacity of up to 7kg. Other baskets for front and rear are available. Please look therefore at Kurier plus and Kurier plus2.
The Kurier is available with 1-speed, 3-speed, 5-speed Cargo or 7-speed coaster break hubs and with plenty of extras. Tires: 26" or 28"x 2,0mm is available with extra puncture resistant layer.
Frame colour: dark blue.
Other colours and additional equipment you find under Extras & Accessories.